excerpt from: The Hollywood Reporter - Monday, July 12, 2006
(..continued from Entertainment Films - Investors)
'Pirates' opens with record $132 mil
Plunder it did. "Pirates of the Caribbean: Dead Man's Chest" grossed an estimated $132 million in its first three days in the North American marketplace, stealing away records from the top openers in box office history: "Spiderman" and "Star Wars: Episode III - Revenge of the Sith."
The Buena Vista Pictures G-13 seafaring tale filled with buccaneers, barroom brawls and the rogue antics of Johnny Depp as Captain Jack Sparrow is the first feature to earn more than $100 million in its first two days in release. It topped "Sith's" single-day opening record of $50 million, set last year with its $55.5 million Friday take. Equally impressive, "Dead Man's Chest's" overall bounty of $132 million topped "Spider-Man's" opening weekend of $114.8 million set in summer 2002.
If estimates hold true, the weekend's top 12 movies grossed $206.5 million, up 48% compared with the numbers last year, when 20th Century Fox's "Fantastic Four" led the session with an opening gross of $56 million. It marks the seventh consecutive up weekend compared with a year ago and becomes the biggest nonholiday weekend of all time.
Not only did "Dead Man's Chest" jump to the top of the list of all time, three day, nonholiday openers, it also easily outdistanced the top four day holiday weekend openers, led by "XMen: The Last Stand," which this year grossed $122.9 million domestically in its first four days, and "Spider Man 2," which grossed $115 .8 million in four days last summer.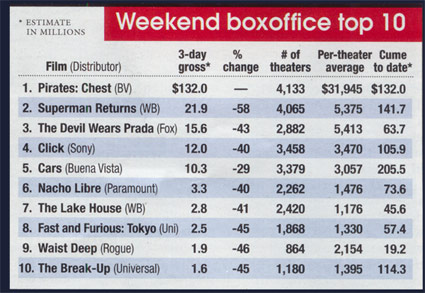 Buena Vista attributes the success of "Dead Man's Chest" to the mass appeal it had with male and female audiences of all ages.
"This is big, big for our business," Buena Vista Pictures distribution president Chuck Viane said. "The anticipation level for this film was high among all four quadrants. People charged out to see this movie. Even as high as we were on this movie, we never could have' put our expectations this high. We are in awe."
The sequel to the 2003 surprise hit, "Pirates of the Caribbean: The Curse of the Black Pearl," was expected to be resounding success, but reaching
the "Spider Man" number was seen as a long shot given "Dead Man's Chest's" lengthy 2%2 hour runtime and mixed reviews.
The film's mammoth opening didn't squash the competition, either. Warner Bros. Pictures still was able to eke out a solid sophomore session for the PG13 "Superman Returns," which dropped an average 58% to $21.8 million. The Man of Steel has performed respectably out of the gate but did drop the furthest of any of the top 10 films. With a gross to date of $141.7 million, it will need to hang in there in the coming weeks to shore up a profit considering the more than $200 million spent on the production.
"We survived in good shape," Warner Bros. Pictures distribution president Dan Fellman said. "I wouldn't have been surprised if we had dropped in the mid 60s with `Pirates' on our heels. We are pleased with the performance."
The weekend's boxoffice also proved that if you give audiences a variety of entertaining programming options, they will turn out in droves. Demonstrating a considerable expansion of the overall boxoffice pie, most of the films in the top 10 dropped less than 50%.
20th Century Fox's "The Devil Wears Prada" held strong during its second weekend. The PG13 comedy starring Meryl Streep and Anne Hathaway confirmed that women's buying power never should be underestimated. In its sophomore session, the David Frankel helmed "Prada" fell an impressive 43%, grossing an additional $15.6 million to bring its cume to $63.7 million.
Adam Sandler proved to be a champion thoroughbred at the boxoffice as well. His PG 13 "Click" marks his seventh film to cross the $100 million mark. In its third weekend in release, the Frank Coraci directed comedy earned $12 million, increasing its overall cume to $105.9 million. Co starring Kate Beckinsale, "Click" is likely to generate an overall gross similar to Sandler's 2003 release "Anger Management," which grossed $135 million. It may even getup as high as $140 million.
If Disney weren't already celebrating the success of "Dead Man's Chest," it also could take heart from its seventh Pixar release, "Cars." That film, landing in fifth place for the weekend with $10 million, dropped just 29% and crossed the $200 million line after five weekends in release.
Opening on the lower end of the range industry watchers have come to expect from Pixar films, "Cars," featuring the voices of Owen Wilson and Paul Newman, has held well and now has its eyes set on topping Sony's "The Da Vinci Code," which slipped out of the top 10 this session with a $1.4 million gross. "Da Vinci's" cume of $213 million is now clearly in "Cars' " cross hairs as the number to beat.
Paramount Pictures' "Nacho Libre," in sixth place, and the rest of the top 10, including Warners' "The Lake House," Universal Pictures' "The Fast and the Furious: Tokyo Drift" and "The Break Up" and Rogue's "Waist Deep," all fell within the 40%-45% range.
In limited release, Warner Independent Pictures had a solid opening weekend for Richard Linklater's "A Scanner Darkly." The animated sci-fi film based on Philip K. Dick's novel opened in 17 locations to $406,000 for a per screen average of $23,882. The film will expand to 190 theaters this week.
Miramax Films' "Once in a Lifetime," the documentary chronicling the New York Cosmos pro soccer team that brought Pele to the U.S., grossed $12,200 on one screen in New York.
For the week ending July 6, the national boxoffice was up 17.8% from the comparable seven day period last year ($274.8 million vs. $233.3 million), while the year to date total holds steady with a 5.4% advantage over 2005 ($4.65 billion vs. $4.41 billion.) Estimated admissions for the year to date are up nearly 4% from last year at this time.